After a really awesome lunch of sandwiches from The Dirty Pickle (you absolutely HAVE TO try them if you haven't yet!), dessert from Honest Abe's & Mona's Chocolates, salad form Gilliland's and snacks from The Apple Castle, the May Chamber meeting proved to be a VERY informative event, with presentations from Ken Romig, Ken Jewell, and Janet Falotico.  Ken, the Vice President for Finance and Management Services at Westminster College, covered a lot of ground including detailing the contributions Westminster College makes to the community as well as the things Westminster gets back from the community.  A very few highlights:
1200 full-time students
Estimated $53MM cash benefit to local PA economy , $2.1MM benefit locally in student rents & purchases
300 full time and 100 part time employees
$15MM paid in salaries
Even though they are tax-exempt they still pay $75K per year in property taxes
They buy $1.4MM worth of services from the Borough
Next up was Ken Jewell, Director of Student Affairs and Operations at the Wilmington Area School District.  Ken detailed a number of the new programs and highlighted the massive improvements the district has made int he technology available to both teachers and students.  The entire school is now covered with WiFi and it can support all of the devices the school now has.  Another one of the improvements is the addition of a 3D printer that the students can work with.  He brought some samples of items the students have created.  In addition the district will be upping their broadband capability to 1Gbps this summer which is a large upgrade from the current capacity.
A surprise but always welcome visitor was Janet Falotico, Executive Director of the Lawrence County Tourist Promotion Agency who spent a few minutes discussing recent activities at the TPA, including the possibility of an increase in
the county's lodging tax from 3% to
5% which would bring in seriously needed additional monies to help with promoting the county tourism businesses.  Also discussed was the addition of a Makers Fair this year at the Fireworks Festival which will be an exciting addition to the festival.
The regular meeting then commenced with updates from Mayor Sherie Babb, the Chamber Executive Committee, and an update on LIVE New Wilmington events by Katanya Cathcart.  The topic was discussed briefly on how to replace the Business Expo since it seems pretty unanimous that it has run its course.  An open brainstorming meeting will be scheduled soon to get started on that important task.  Meeting minutes will be available by the 3rd week of June.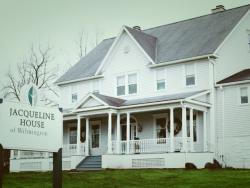 Once again we want to thank the Jacqueline House for their incredible hospitality
Links to mentioned Chamber businesses: